product name
€324.63
RRP
€339.39
Saving:
4%
You save
4%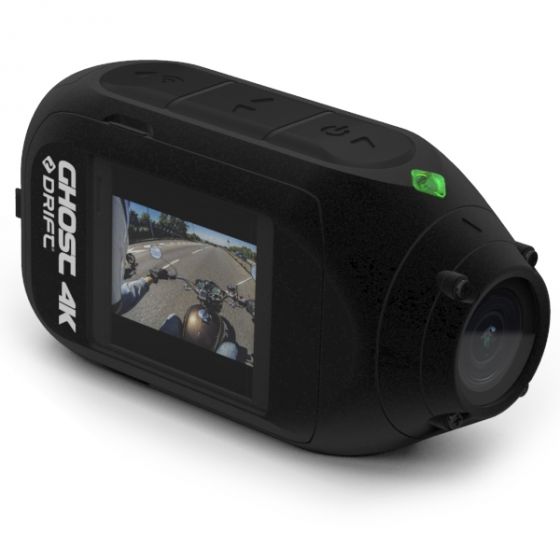 DRIFT HD GHOST 4K CAMERA

Ghost 4K is the culmination of years of action camera experience. We wanted to create the perfect camera for our riders. A camera that doesn't sacrifice on battery; shoots at incredible 4k resolution; and helps you capture your life your way.
The innovative modular design gives you the freedom to film, while our signature rotating lens and distinctive 'bullet' design will move with you, not against you, and with our Drift Life mobile app, you're only one tap away from editing, sharing and even live streaming your adventures.

GHOST 4K - Drift's most powerful camara ever.
The most powerful Drift camera ever made. The award-winning Ghost series continues with the mighty Ghost 4K, ready to capture your world in stunning 4K Ultra-HD 30FPS.

Modular Design - Modular side dock for accessories and power systems.
Dual Microphones - Front and rear mics for dynamic sound and noise reduction.
Video Stabilisation - Automatic stabilisation at 1080p to capture crisp, clear footage.

FOR THE RIDE
Engineered to capture your best footage yet. The Ghost 4K features dual microphones to reduce wind noise and video stabilisation to minimise blur and compensate for camera shake. Your ride never looked - or sounded - so good.

BUILT TO LAST
Our revolutionary snap-on modular system gives you more control than ever. Unclip the included external battery and switch in any Ghost 4K module - from an LCD screen to huge battery packs*. Snap and go. *Modules sold separately.

GET THE SHOT
Blink and you'll miss it. The Ghost 4K switches from sleep to record with a single press. Combined with our advanced low light performance, you're good to go.

REMOTE CONTROL
With the Drift Life app, you can control your Ghost 4K's every move, from viewfinding, to shooting photos, to capturing video. Plus, it's connected; check in on the app at anytime to see the best content from around the world.

FULL SPECIFICATION

● HD video available up to 4K UHD @ 30 FPS, 2.7K @ 60 FPS, 1080P @ 120 FPS
● Electronic Image Stabilisation.
● Gyroscope to automatically predict and stabilise movements smoothly
● Dual front/rear microphones for amplified sound and wind noise reduction. When the camera is in motion, the front microphone will disengage, activating the rear microphone to help reduce wind noise
● Improved WiFi and bluetooth connections for live streaming and more
● 'Stitch' Mode where any new clips shot after setting a time interval will automatically be 'stitched together' for on¬the¬fly edits
● 'Instant On' Mode for standby one¬touch recording
● High Dynamic Range (HDR) photos
● Modular side dock for premium accessories and extended power systems
● Colour dot matrix LCD screen, now on the rear of the camera, eliminating the rear hatch (moved to the bottom of the camera)
● 10 PIN Mini USB and microSD slot for up to 64GB
● Photos and photo burst up to 12 MP resolution
● Time-lapse photos and videos up to 12 MP and multiple intervals from 1 second up to 1 hour
● Wireless remote and various mounts
● Fully rotatable lens ¬ Keep your camera on its mount and twist the lens the way you want to capture the best shot at any angle
● Multiple modes including Car DVR (for a handy dashcam) and Cinematic mode
● Video Tagging to easily capture only the moments that you want without sacrificing storage
● Auto low light mode
● Pair the camera with the free Drift Life app on iOS and Android for further controls
More Information

| | |
| --- | --- |
| Brand | DRIFT |
Additional information
Important Delivery Information:
Delivery times to Ireland are next day up to 31kgs.

Delivery times to countries outside Ireland including the UK, are 48 hours.

Free postage on all orders over €50.00.

For items to other countries, please click here.
This returns policy is implemented at the sole discretion of Cotter Motorcycles Dublin: You must include the completed returns note ( get it here ) with all returned goods. All returned goods must be in the same condition as sent and in original packaging provided. All returned goods must be sent back within 14 days of receipt, any returns received after this time may be rejected or be subject to 15% handling charge. Responsibility for non-receipt of returned items rests with the sender. Special order items are non-refundable & non-returnable unless they are DOA. Any 'damaged on arrival' (DOA) goods or consignment shortages must be reported by telephone immediately (no later than 24 hours of receipt of delivery) and full details of the consignment supplied at the time of reporting. Failure to report within this time limit may mean that the goods are not treated as DOA. DOA goods must be returned within 7 working days of delivery. A 15% restocking fee will be charged on all returned goods that were supplied correctly but are no longer required (not DOA goods). Any goods incorrectly addressed by Cotter Motorcycles Dublin will be re-sent with no carriage cost payable by the customer involved once the error has been accepted by us. Returns are not available on goods sold under special terms; e.g. end of line, discounted, promotion or special order items. This policy does not affect the statutory rights afforded to consumers.